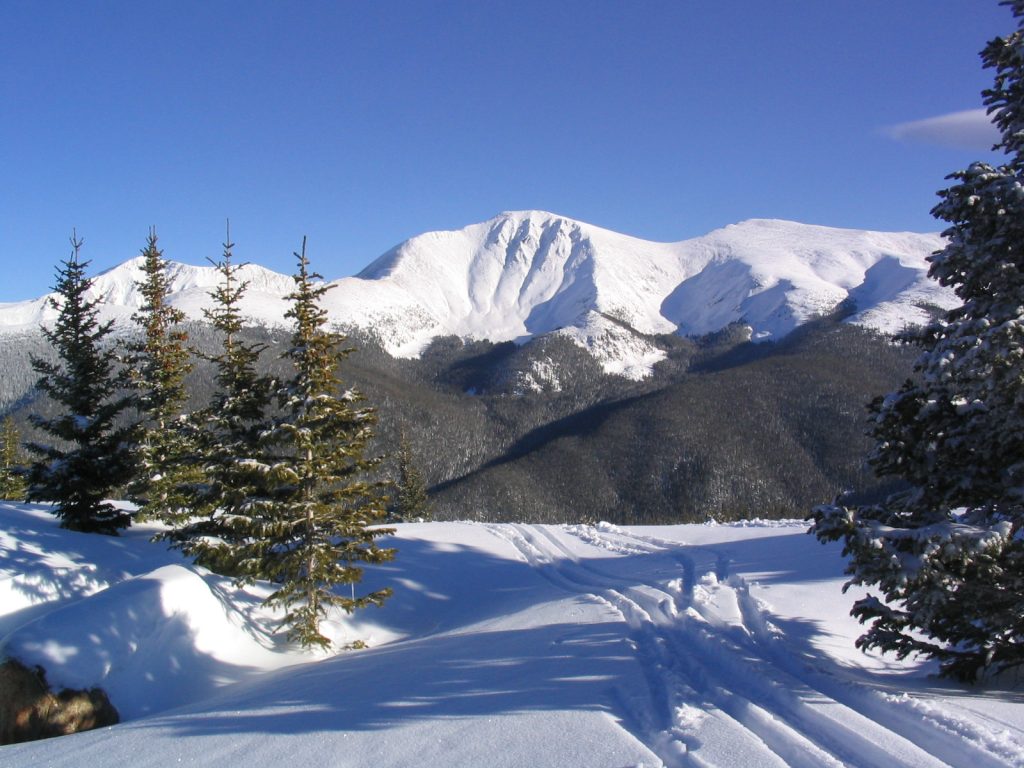 "Best renowned for its steep mountains, beautiful snow, and closeness to Denver, Winter Park has a rich cultural history dating back to before the pioneers."
A BRIEF HISTORY
The Winter Park area was occupied by nomadic tribes of Arapaho and Ute Native Americans before the arrival of the pioneers and the railroad. Winter Park Resort, one of Colorado's oldest resorts, was originally named West Portal in 1940. The resort operated under the administration of the city of Denver until it was sold in 2002, when it was renamed, Winter Park. Today remains of the previous appellation may be found in the names of local businesses such as West Portal Outfitters.
WHY SHOULD YOU VISIT WINTER PARK?
Having started as an unincorporated town, Winter Park has grown into a well-known ski resort in Colorado. It has a rich history, with many historical sites and accolades to show for it! Winter Park was named Colorado's greatest adventure town for a reason. It is ideal for family vacations as well as romantic retreats and solo visitors. There's skiing and other winter sports, but this place is also ideal for an exciting summer escape with hiking, rafting, biking, and other activities. It is one of the most family-friendly vacation locations in the United States, and your trip to this place will undoubtedly be memorable.
Continue reading to learn about the best spots and events Winter Park offers in all seasons.
Discover Mountain Bike Capital USA
For its many bike trails, Winter Park is called "Mountain Bike Capital USA." With 600 miles of trails to explore, hire a bike and select a path based on your ability level, go on a guided trail tour, or visit one of two downhill bike parks.
Exciting Events Throughout The Year
Signature yearly events, such as the Winter Park Jazz Festival in July, attract visitors. The event welcomes world-class musicians and entertainers to the outdoor venue for a weekend of music and entertainment. There are also free fitness classes, beer and wine festivals, bull riding, and competitions throughout the year.
Enjoy the joy of a thrilling Alpine slide
The longest alpine slide in Colorado is located at Winter Park Resort. Ride the chairlift to the top, then glide down the 3,000-foot course on an alpine sled. There is a break so that people who do not wish to ride at full speed can slow down to a reasonable speed.
The walkable downtown area is home to more than 45 different stores and boutiques. Shop for handcrafted furniture, presents, and souvenirs, then relax at one of the unique restaurants, coffee houses, ice cream shops, vineyards, wine bars, or cafés.
Take A Guided E-Bike Tour
If an electric bike is more your style, visit Winter Park Resort for a 5-mile guided trip from Sunspot Lodge to Lunch Rock. You'll require moderate riding abilities, but an e-bike will make the 600-foot climb simpler. From June 27 to September 27, three trips are offered every day. The price includes an e-bike, a guide, and gondola access.
Which Transportation Option Should You Choose To Visit Winter Park?
Private car service is the most comfortable, flexible, and convenient mode of ground transportation to and from Winter Park.
WHY CHOOSE MAYFLOWER LIMO TO VISIT WINTER PARK?
"Travel stress-free and hassle-free than other modes of public transportation by simply booking a car."
There are always good facts and explanations to figure out why booking a car service is the safest way to travel. It is a faster mode of transportation than buses, trains, and even uber services.
Mayflower Limo is proud to provide first-rate transportation for long distances. Especially when it comes to one-way, round-trip, hourly, and airport transfers. All of their drivers are qualified to provide you with cutting-edge, first-rate transportation. The foundation of the company is built on respect, integrity, and dignity. Among the many advantages are:
There is no additional charge.
The element of convenience
Safety
A driver who is familiar with the city of Denver.
With all of the advantages listed above, you will be passing up a plethora of opportunities if you do not use this service on your next trip.
If you're traveling to Breckenridge, you can read more about our services here.