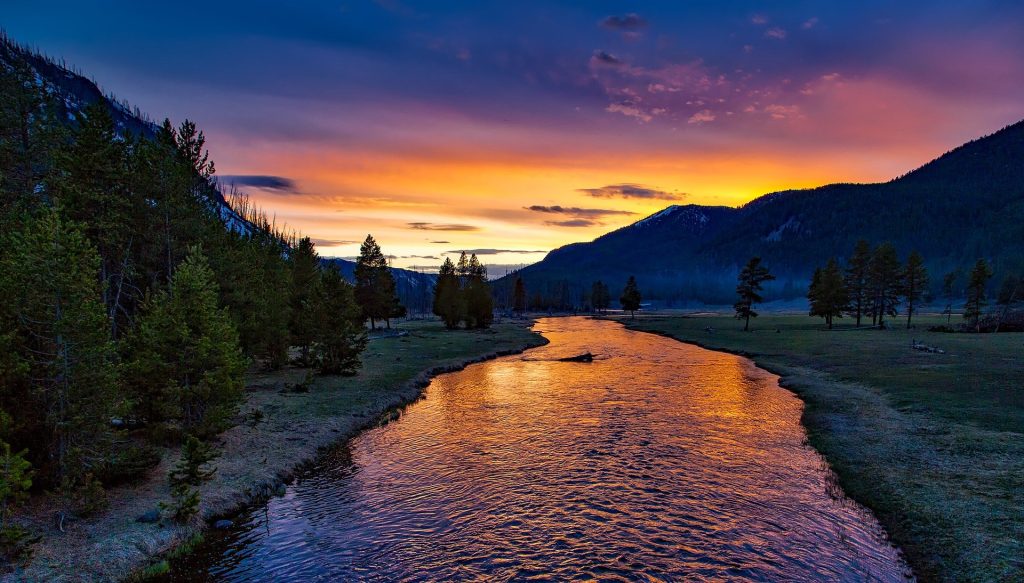 "Fewer places in America are better than Wyoming for getting back to nature."
Wyoming is a place full of adventure, breathtaking natural beauty, and limitless outdoor experiences. This gorgeous state will satisfy your need for adventure in a variety of ways, with soaring mountains, national parks, and ski resorts. It also has a lot of animals and iconic sites. Other attractions include one-of-a-kind museums, natural hot springs, and lovely botanic gardens.
So, start planning your holiday here by reviewing our suggestions and list of the best things to do in Wyoming.
YELLOWSTONE NATIONAL PARK
Yellowstone, the world's very first oldest national park, is one of the most awe-inspiring natural locations in the world. Massive herds of bison continue to roam freely in the valleys. Grizzly and black bears, grey wolves, elk, antelope, trumpeter swans, and magnificent bald eagles are among the rich wildlife.
You may drive through the park, but hiking is a great way to experience the area's diverse ecosystems. You can expand your wilderness experience by camping in one of the park's picturesque campsites.
JACKSON HOLE MOUNTAIN RESORT
Jackson Hole Mountain Resort is usually recognized as one of the greatest ski resorts in North America. Especially with amazing views of the Teton Range. The resort is most renowned for its severe, challenging hills and 4,139-foot vertical drop. And it is a favorite destination for daring backcountry and freeskiers.
Accommodation is provided at the resort's basement, and there are several on-mountain food options.
HOT SPRINGS STATES PARK, THERMOPOLIS
The world's biggest mineral hot spring is not to be missed, nor is the chance to see Wyoming's central bison herd. The springs themselves resemble Mammoth Hot Springs in Yellowstone (above), but you may bathe in them.
You may choose between swimming in the boiling hot mineral waters of the State Bath House or in one of two public pools. In any case, Hot Springs State Park is a calming way to conclude a day of adventure.
THE OLD TRAIL TOWN
It is based on the town that Buffalo Bill and his friends built-in 1895. The Old Trail Town is made up of a lot of old Western buildings that were built between 1879 and 1901. The site contains 26 houses with historical antiquities, the majority of which were gathered within 150 miles of Buffalo Bill's initial settlement.
Several gravesites have also been shifted to the site, including that of mountain man 'Liver-Eating' Johnson.
BRIDGER-TETON NATIONAL FOREST
Outdoor enthusiasts may explore more than 3.4 million acres of western Wyoming's rough mountain wilderness in the gorgeous Bridger Teton National Forest.
Three Wilderness Areas are located within the forest's boundaries. The Bridger Wilderness in the Wind River Mountains, which contains the headwaters of the Green River, some of the world's biggest glaciers, and Gannett Peak, Wyoming's highest point. The Teton Wilderness protects species like as grizzlies, wolves, and bison, while the Gros Ventre Wilderness contains unique geological characteristics.
DEVILS TOWER NATIONAL MONUMENT
Soared more than 1,200 feet above Wyoming's eastern plains and the Belle Fourche River, Devils Tower National Monument is a geographical treasure. If you're searching for things to do in northeast Wyoming, this is the place to go. The Devils Tower Visitor Center highlights the geography of this flat-topped volcanic marvel and displays the area's history and culture via images and exhibits.
After your exploration of the monument, you may hike over eight kilometers of nature paths that round the rock and wind through the surrounding woodland and meadows. During the spring and early summer, the plethora of wildflowers provide excellent photographic opportunities. As you enter the site, keep an eye out for prairie dog colonies.