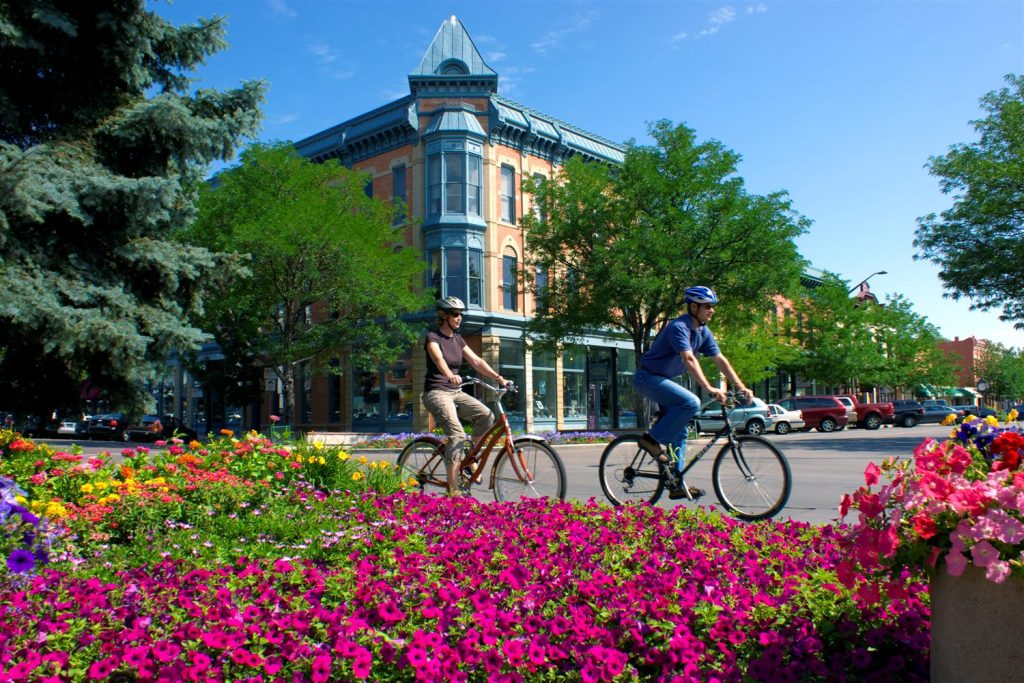 "If you want to enjoy a different day trip from Denver, travel north to Fort Collins, which provides everything you need for a wonderful vacation in one place."
Fort Collins, CO, the home of Colorado State University, is a picturesque town surrounded by stunning scenery that provides year-round experiences. It's a fantastic place to go for sightseeing, excellent food, shopping, and nightlife. Not only is Fort Collins the cultural capital of North Colorado, but a major beer town with 20 breweries. So if you're an enthusiast, you can spend all your time on outings and sampling the wide variety of brews and beers that originate here. There are also some beautiful places to ride, trek, or kayak across in the Rockies' foothills.
HISTORIC OLD TOWN
The attractive brick houses of Fort Collins' Old Town have been preserved. A walk through these streets will put you in the boots of a nineteenth-century resident. There are 28 historic buildings to view in total, which are now cafés, shops, and galleries. If you've ever been to Disney Land, you'll notice a resemblance between Fort Collins and Main Street USA, which was inspired by Fort Collins. The art deco Armstrong Hotel, built-in 1923 and still retaining its original interior furnishings, is one of Fort Collins' ensemble of lovely historic buildings. With more than 80 restaurants located across a few city blocks, the Old Town is likely to fascinate diners.
HIKE AT HORSETOOTH RESERVOIR
Fort Collins, like the rest of Colorado, is an outdoor paradise. Indeed, the town is devoted to open, natural public places. Horsetooth Reservoir, a 1,900-acre body of water enclosed by another 2,000 acres of land, is one of the most famous places there. The reservoir has around 30 miles of biking, hiking, and horse trails, the most famous of which lead to the local landmark Horsetooth Rock.
SURROUND YOURSELF WITH BUTTERFLIES
The Gardens on Spring Creek is an 18-acre botanic garden located approximately two miles south of downtown. It has a variety of gardens and environments. Such as a foothills garden with semi-alpine plants, a prairie garden with low-lying species, and a children's garden with a fish pond and an Interactive Discovery Zone. But the Butterfly House could be the best of them all.
ODELL BREWING COMPANY
It's best to make reservations for a visit to this brewery ahead of time. But if you're lucky, you can simply show up and make up the numbers in a group. Odell is Fort Collins' premier craft brewery, producing English-style beers. These are distributed in restaurants and pubs across the Rocky Mountains and the western states. Odell's taproom is usually a good place to visit, with live music every week and a new food cart pulls up to the patio outside.
FORT COLLINS MUSEUM OF DISCOVERY
Even if you're not a museum person, the Fort Collins Museum of Discovery should be on your bucket list. It's the finest spot in town to take your kids, and it's enjoyable for people of all ages.
In this enormous, interactive museum, you'll find hours of informative and interesting entertainment. Make sure to get a ticket to the revolving exhibits hidden in the back room. Previously, there was a themed dinosaur event that included a video about the ancient flying dinosaurs, life-sized models, virtual activities, and actual fossils.
JESSUP FARM ARTISAN VILLAGE
Jessup Farm Artisan Village seems like a trip back in time, yet with modern, stylish amenities.
This ancient farmstead, which was home to one of the city's oldest settlements, has been transformed into a coffee shop (from mechanics shop), a photography business (former loafing shed), a clothing and home shop (also in the old shed), a barbershop (in the old farm shop), and the Jessup Farm Barrel House, which includes beer-blending and barrel-aging. The Farmhouse restaurant, located in the 130-year-old Jessup House, is the gem of the Jessup Farm Artisan Village.
WHY CHOOSE MAYFLOWER LIMO FOR VISITING FORT COLLINS?
"Travel stress-free and hassle-free than other modes of public transportation by simply booking a car."
There are always good facts and explanations to figure out why booking a car service for your Fort Collins trip is the safest way to travel. It is a faster mode of transportation than buses, trains, and even uber services.
Mayflower Limo is proud to provide first-rate transportation for long distances. Especially when it comes to one-way or round-trips. All of their drivers are qualified to provide you with cutting-edge, first-rate transportation. The foundation of the company is built on respect, integrity, and dignity. Among the many advantages are:
There is no additional charge.
The element of convenience
Safety
A driver who is familiar with the city of Denver.
With all of the advantages listed above, you will be passing up a plethora of opportunities if you do not use this service.