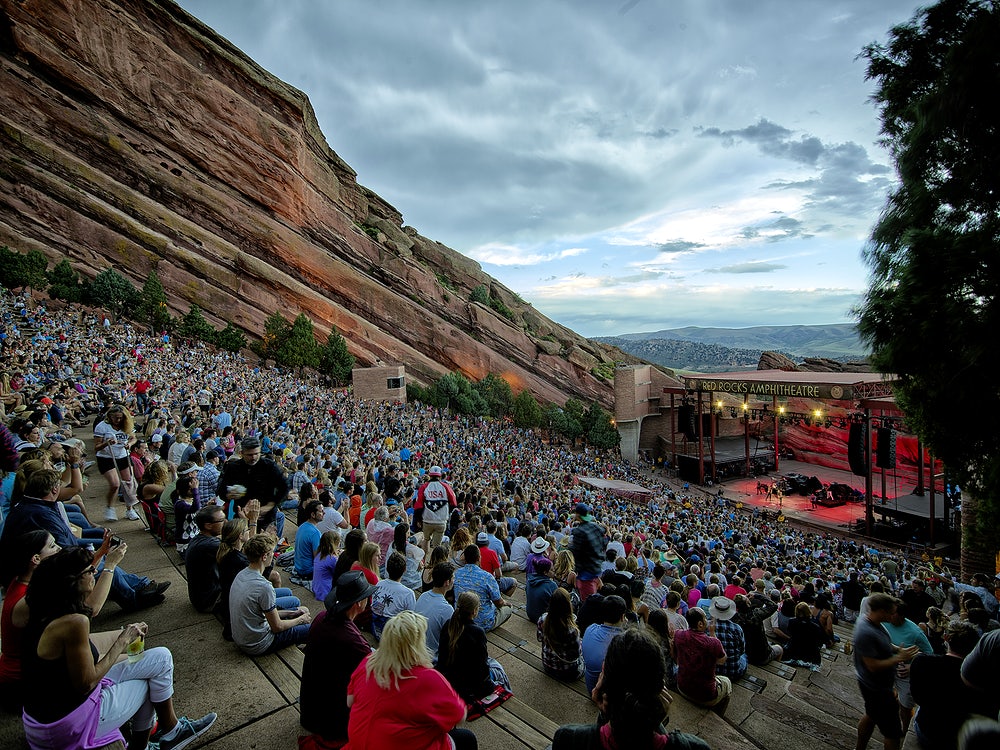 "While it may not be actually proven, music just sounds a lot better in the high-altitude Rocky Mountains, where guitar notes and passionate melodies cut right through the thin air. That might be the reason why there are so many outdoor Denver concert venues, and they are generally full."
One thing is sure: Denver's music scene is one to be celebrated and embraced. Denver's multitude of concert venues, ranging in size, genre, and mood, attracts a wide range of artists, from local bands to national big-name performers. There really is something for everyone.
Explore these concert venues in Denver and let the music move you!
BEST CONCERT VENUES IN DENVER
RED ROCKS AMPHITHEATRE, MORRISON
The mother of all outdoor concert venues, the naturally formed, sonically perfect, jaw-droppingly beautiful Red Rocks Amphitheatre near Morrison, has been enchanting spectators and performers alike for more than 100 years. The Beatles, Jimi Hendrix, U2, and The Grateful Dead are just a couple of the many renowned artists who have performed in this world-famous venue. Aside from concerts, the venue also hosts Yoga on the Rocks and Film on the Rocks.
THE FRED SHELLMAN MEMORIAL STAGE, TELLURIDE TOWN PARK
The rocky, 14,000-foot peaks of southwest Colorado rise high 360 degrees surrounding Telluride Town Park. It produces an unbelievably stunning live music environment for the annual blues, folk, and bluegrass festivals, as well as other summers events on this fixed stage. During days-long musical events, camping in the park is common. This venue's major annual events are always packed.
PARAMOUNT THEATRE
The historic Paramount Theatre in downtown Denver, built-in 1933, is just a yard off the 16th Street Mall. The Paramount Theatre in downtown Denver, which was formerly a movie theatre in the 1930s, is now listed on the National Register of Historic Places. However, the atmosphere seems older, as if it belonged to Denver's Wild West days. It also makes most concerts feel a little bit cooler.
CERVANTES MASTERPIECE BALLROOM
The Cervantes Masterpiece Ballroom in Denver\'s top indie music venue. Cervantes features two rooms, the main ballroom and The Other Side, both of which host live music events, often at the same time. Audience members can walk between the two sections to listen to live music in both. The majority of the shows are for ages 16 and above, and there's also a cafe on-site called Pass the Peas, which serves locally produced and organic food.
FILLMORE AUDITORIUM
The Fillmore Auditorium, located in Denver's Capitol Hill area, attracts some of the country's top musical artists. Recent performers have included Marilyn Manson, Joss Stone, and James Blunt. The Fillmore has a different atmosphere and is bigger than most of the others. In fact, until 2019, it was the state's largest indoor arena. It started as a roller rink in 1907 — it still holds local roller derby matches on occasion. And it currently hosts performers from all over the world, everything from hip-hop to metal.
SUMMIT MUSIC HALL
As a smaller-scale music venue in Denver's LoDo area, Summit Music features a solid selection of metal and punk rock, with new additions in a multitude of other music genres. Smaller crowds can be accommodated in the intimate Moon Room, which has two separate stage layouts. And just around 1,000 people on the main stage. In addition, attendees may enjoy not just a full bar but also pieces of warm pizza from Marquis Pizza.
WRAPPING IT UP
Whether you are a die-hard fan of American music or simply looking for a fun night out, Denver has all bases covered when it comes to living music venues presenting all genres. Denver's thriving live scene, overflowing with legendary performers, is an excellent accompaniment to the city's beautiful outdoor setting near the Rocky Mountains.
ARE YOU PLANNING TO VISIT ANY OF THESE CONCERT VENUES IN DENVER?
"Travel stress-free and hassle-free than other modes of public transportation by simply booking a car."
There are always good facts and explanations to figure out why booking a car service is the ideal way to travel. It is a faster mode of transportation than buses, trains, and even uber services.
Mayflower Limo is proud to provide first-rate transportation for long and short-distance travels. Especially when it comes to one-way or round-trips. All of their drivers are qualified to provide you with cutting-edge, first-rate transportation. Moreover, the foundation of the company is built on respect, integrity, and dignity. Among the many advantages are:
There is no additional charge.
The element of convenience
Safety
A driver who is familiar with the city of Denver.
With all of the advantages listed above, you will be passing up a plethora of opportunities if you do not use this service while visiting any concert venues in Denver.