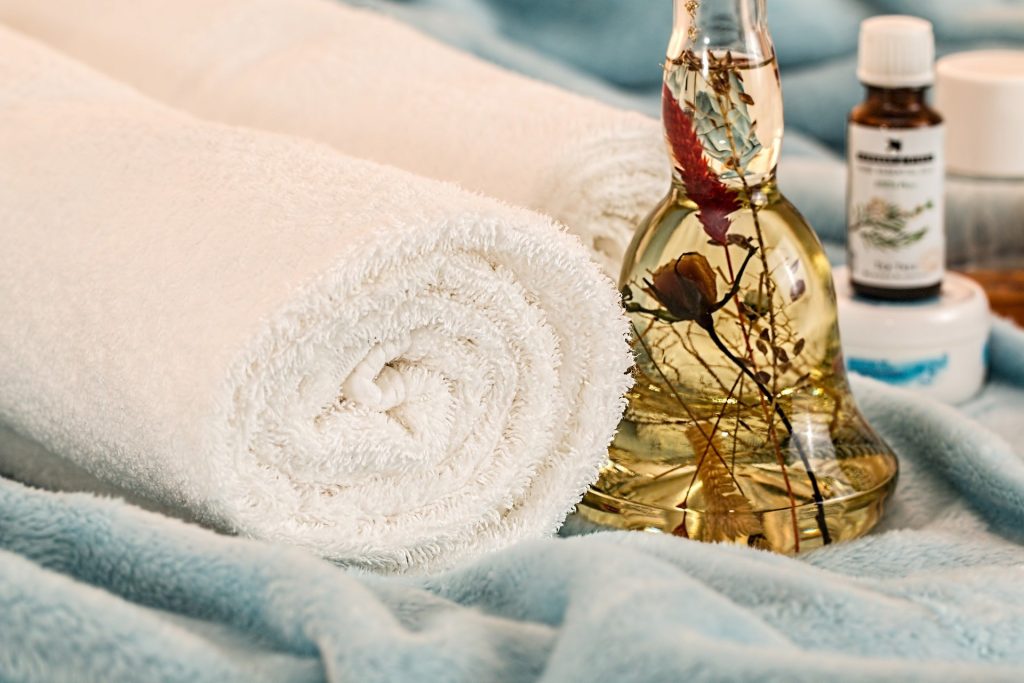 Colorado is the perfect place to get away and get in touch with nature. Many people come to Colorado to visit the world-class resorts centered around some of the most magnificent ski slopes and National Parks along the Rocky Mountains. One of the top amenities people search for when they need some rest and relaxation are spas, and thankfully, resorts and spas go hand in hand. Colorado has some of the best spas in the nation.
When you need to relax after a challenge out on slopes, the spa is there for the ultimate self-care. From facials to herbal-infused steam rooms to massages, here are the best spas in Colorado.
BEST SPAS IN COLORADO
Garden of the Gods Club and Resort Spa
Located in Colorado Springs, the Strata Integrated Wellness Spa services at the Garden of the Gods Resort and Club provide a therapeutic experience while you enjoy the breathtaking view of the open spaces and the nearby mountains.  
There are many beneficial treatments to choose from, including the Pink Himalayan salt-inhalation room (halotherapy). Halotherapy provides deep heat for detoxification and stress management. Or select an aromatherapy herbal sauna or the herbal steam room.
Experience a variety of massages and body therapies to help you ease your muscle tension. And enter a deeply relaxed state. Or try the coveted dry floatation therapy where music vibrations pulse gently around you. So you may float weightlessly in a warm body temperature atmosphere.
This spa offers salon services to help you find that complementary look to help you feel confident and exude radiance as bright as the natural beauty around you.
Spa at St Julien
Spend the day at the Spa at St. Julien for the ultimate pampering experience. With a large selection of packages and standalone options, you can build out your relaxation therapy that fits your needs best. The spa is located a short distance from the foothills west of Boulder. It is the perfect place to take some time to unwind after a full day of outdoor activities. 
You can start with a Just for You Package and choose three services offered at the spa you feel you need at the time. The options span from an essential therapeutic massage, scrubs and wraps, facials, and more each service offers luxury upgrades.
Take care of your looks with one of the many professional stylists available to cut or color your hair, apply makeup for your night on the town or special occasion or get rid of unwanted hair with the waxing services offered at the salon. 
SunWater Spa
Located In Manitou Springs, the SunWater Spa offers a variety of services that utilize the transformative mineral waters of Manitou Springs and center around holistic treatments. The spa helps you relax your mind, body, and soul with treatments. That includes soaking in the mineral waters in cedar tubs, massages, waxing, skincare. And also yoga classes. 
The soaking spa is located outdoors for you to enjoy the gorgeous surroundings. Moreover, it slips into bliss as you soothe your aches and pains away in tubs. The cedar tubs are filled with water from the famous Seven Minute Spring. The healing waters flow through deep underground cracks and crevasses and infuse the water with healthy minerals.
The soaking spa may be the highlight of SunWater Spa, but there are a wide variety of spa services that can help you relax through massage, skincare, and other holistic wellness practices. 
The Spa at The Broadmoor
The Spa at The Broadmoor is internationally known for its attention to addressing the unique needs. And also wellness goals in a serene and luxurious setting. The resort has been awarded consecutive Five-Star and AAA Five-Diamond awards for its superb services and amenities. 
Your spa day at the Broadmoor will be nothing short of extraordinary. After a day of golf or exploring the expansive wilderness, unwind with an extensive spa menu designed to indulge your senses. Also, to help you heal from the outside by using environmentally conscious products. 
You can choose from a classic Swedish massage to a shiatsu deep therapeutic massage. Or indulge in a round of skincare treatments such as the oxygen infusion or the quantum lift facial to help tone, tighten, and firm your skin in one session. 
Spa at The Broadmoor uses vegan-friendly gluten-free products. So you can feel good knowing that your day of rest and relaxation is environmentally friendly.
The Spa at Four Seasons Resort Vail 
The Spa at Four Seasons Resort Vail focuses on wellness and overall well-being by going above and beyond the standard services. It offers unique relaxation experiences to help cater to the individual needs of being at high altitudes. One of the treatments features adjustment cures to help aid with the sickness that can occur with high altitudes. 
Rest in the plunge pools or the relaxation garden as you await your services. Choose from an aromatherapy massage or a specialty high altitude adjustment massage. Moreover, you can relax and revive your entire body with a refreshing body wrap. It will also help brighten and rejuvenate your skin. 
Finish up by adding on some salon services such as waxing, haircuts, and makeup application to help you look as great as you feel. 
Mayflower Limo
Your spa day is your ultimate in self-care and relaxation time. Fully immerse yourself in treatment by taking the stress out of driving to one of these luxury resorts. Mayflower Limo, a luxury car service, can take you to your destinations in style by one of their world-class professional chauffeurs. Whether it's a stylish six-passenger SUV or one of the gorgeous limos to choose from, you can truly relax during your entire trip.