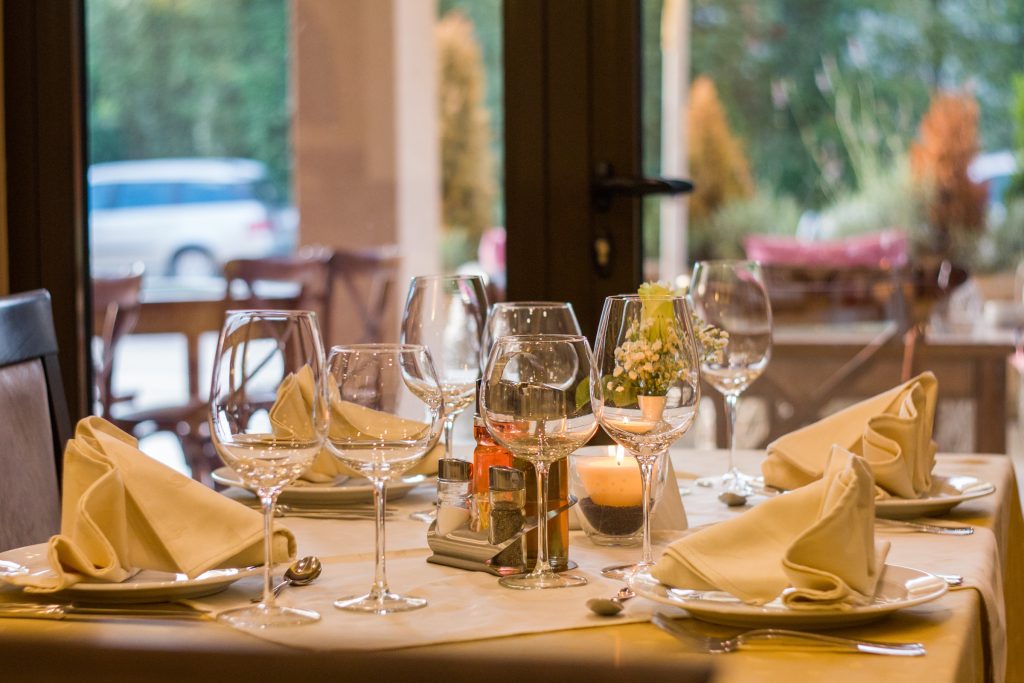 Colorado is widely known for its incredible Rocky Mountain access with the best skiing in the country. The state constantly brings in visitors from around the world to some of the biggest Colorado sprawling cities and world-class ski resorts. It has grown to become home to many of the most impressive unique restaurants out there. From farm-to-table eateries to a large selection of craft breweries with killer food, Colorado has a lot to offer in the way of food.
With Colorado's popularity on the rise, this list of restaurants showcases the best of the best that fully embrace the culture of the Rockies. From favorite local hangouts to upscale romantic restaurants, here are 12 of the best restaurants Colorado has to offer.
LeRoux Restaurant
1510 16th St Mall Denver, CO 80202
For a romantic and elegant dining experience, take a trip to LeRoux and enjoy the ambiance and incredible European cuisine. Dine by candlelight in a fine dining setting perfect for a date night out on the town. Although elegant, it still feels warm, inviting, and casual. Each dish is prepared with a perfectly paired accompaniment. A few must-try items, such as the French onion soup and the oysters Rockefeller, can't be missed. Here's where this restaurant is located.
Juniper Valley Ranch Restaurant
16350 Highway 115 Colorado Springs, CO 80926
Opened by sisters Ethel and Evelyn Parker in 1951, this Colorado Springs favorite hasn't changed much. Their menu sticks to timeless country favorites, including their famed fried chicken and ham that people worldwide travel to Colorado to check out. The main dishes come with all the fixings, including coleslaw, okra, biscuits, potatoes, and a rotating dessert. The menu can change throughout the week, and the price can vary, but that never stops a soul from making the trip. If you're looking for some good country eats, take a trip to Juniper Valley Ranch but be sure to make a reservation first. Moreover, here's where this restaurant is located.
Boulder Dushanbe Teahouse
1770 13th St, Boulder, CO 80302
A Boulder trip is not complete without visiting the ornate landmark teahouse. This remarkable teahouse was given as a gift from Boulder's sister city, Dushanbe, Tajikistan, and was shipped piece by piece and rebuilt along Boulder Creek at the bottom of the Flatirons. Moreover, the teahouse was offered as a symbol of global peace and cultural exchange and aimed to share that message with visitors who stop in Boulder to see the teahouse. Offering one of a kind experience, visit for a cup of one of the dozens of selections of teas or dine on one of the many international favorites offered on this eclectic menu. Or just visit to look at the awe-inspiring architecture. Moreover, here's where this restaurant is located.
Plates by the Pound BBQ
11601 E Montview Blvd Aurora, CO 80010
Plates by the Pound brings Texas Barbeque to Denver with this well-known barbeque joint. This barbeque joint serves up plates by the literal pound. People make their way up to Aaron Gonerway's smokehouse in Aurora to get the best ribs, brisket, pulled pork, and homemade sausages served with a rotating selection of sides. Only open on Saturdays until they sell out, people line up early to get a chance to taste the famed Texas BBQ that continues to win awards. Gonerway plans to open up on Sundays in the near future. Until then, be sure to get there early! Here's where this restaurant is located.
Shuga's Restaurant
702 S. Cascade Ave. Colorado Springs, CO 80903
Shuga's is a lively, funky gathering spot with retro mismatched décor that serves a delightfully eclectic, globally-inspired menu. Dine under adorable paper cranes dangling from the ceiling while you enjoy the fresh vibes of this cozy restaurant. Want to make a paper crane? Just look at the menu and follow the instructions on the side panel! The spicy Brazilian coconut shrimp soup is a true favorite of the locals that warms and delights the soul. Shuga's also throws out a vintage movie night showing classics like Stand by Me, A League of Their Own, and more. Here's where this restaurant is located.
Plato's Restaurant
845 Meadows Rd Aspen, CO 81611
Plato's is located in the lobby at the Aspen Meadows Resort. Dining at Plato's offers a truly unique, elegant dining experience. The dining room shows the inspiration of Bauhaus, featuring abstract modern décor, and the outdoor offers unforgettable views all year long. Plato's will seasonally set up their igloo outdoor private dining experience with clear domes adorned with string lights that make for the perfect romantic experience. The food features sustainable, locally sourced ingredients presented by Chef Rachel Koppelman. Here's where this restaurant is located.
Vintage
12 Vail Rd #100 Vail, CO 81657
This delightful French bistro serves traditional brasserie fare that serves champagne brunch and dinner. Enjoy traditional French cuisine in this charming restaurant that serves delicious beef bourguignon, Poisson en papillote (seasonal fish baked in parchment), and steak fries. Vintage is a popular brunch spot that offers an incredible selection of brunch foods such as the pear burrata or the swiss forest galette. Try one of the local favorites, the popular huckleberry bacon French toast, and pair it with a mimosa or the signature bloody mary. Here's where this restaurant is located.
The Margarita at Pine Creek
7350 Pine Creek Road Colorado Springs, CO 80919
The Margarita at Pine Creek serves the best in contemporary comfort food favorites on a family homestead. The restaurant serves locally sourced ingredients and rotates its menu based on the offerings. Because they source only fresh local foods, the menu can change week to week. There are some classics you can rely on, like the housemade bread with pimento cheese, and you'll always be able to grab a great burger or steak. Often the Margarita will have a live band that plays on the patio while you enjoy your fare and your margaritas. Here's where this restaurant is located.
Black Cat Restaurant
1964 13th St, Boulder, CO 80302
Black Cat has a strong commitment to offering the freshest sustainable meals crafted with locally sourced ingredients for that true farm-to-table feel. Moreover, Black Cat owns a farm just outside of Boulder where they grow their own certified organic vegetables used to prepare their menu for the restaurant. Moreover, the farm produces vegetables, grains, and raises and breeds livestock. If you're having a hard time choosing from the incredible selection of items, Black Cat offer's the Chef's tasting menu. The tasting menu allows you to be served with a unique presentation crafted for the day from the Chef, sommelier. And also their farm for a grand culinary experience. Moreover, here's where this restaurant is located.
Corrida Restaurant
1023 Walnut St #400, Boulder, CO 80302
Looking for a restaurant with a view? Corrida offers the most incredible sweeping mountain views from their rooftop patio. Take a seat around the gorgeous obsidian firepit and take in the Rockies like they were meant to be enjoyed, with a cocktail in hand around a fire with great friends. Well, second, to the obvious skiing and snowboarding. Thankfully, it's not just the views you can enjoy. The Corrida is a meat-lovers paradise featuring a meat-centric menu that is sure to leave you in a state of bliss. Here's where this restaurant is located.
Three Saints Revival
1801 Wewatta St. Denver, CO 80202
This gorgeous pan-Mediterranean spot is nestled behind Union Station, featuring colorful modern designs and an almost dali-Esque ambiance. Three saints' revival is known for its robust craft cocktails and spirit selections. The inspiration for the cuisine is pulled from every inch of the Mediterranean, Spain, Provence, Egypt, and Greece. Choose from an eclectic mix of tapas like the harissa carrots or the watermelon and mint in this Denver favorite. Or have an entire meal and enjoy the half chicken, but this spot is an excellent place for a fun experience with great friends. Here's where this restaurant is located.
Ristorante Ti Amo
40928 US-6 Beaver Creek, CO 81620
Ti Amo is a local favorite in the Vail Valley and offers an old-world Northern Italian selection of cuisine. When you're here, you have to try the house specials like the Pollo Fragole (strawberry Chicken) or the homemade gnocchi principessa. You'll soon understand why this spot is a favorite for locals and visitors alike. Here's where this restaurant is located.
Mayflower Limo
This list features some of the best spots to visit in the most popular cities of Colorado. From Denver to Aspen, you're sure to find a spot you just have to try. Arriving at any of these hotspots is a breeze and is made even better when you arrive in style and luxury. Mayflower Limo offers incredible private luxury rides driven by world-class professional chauffeurs.