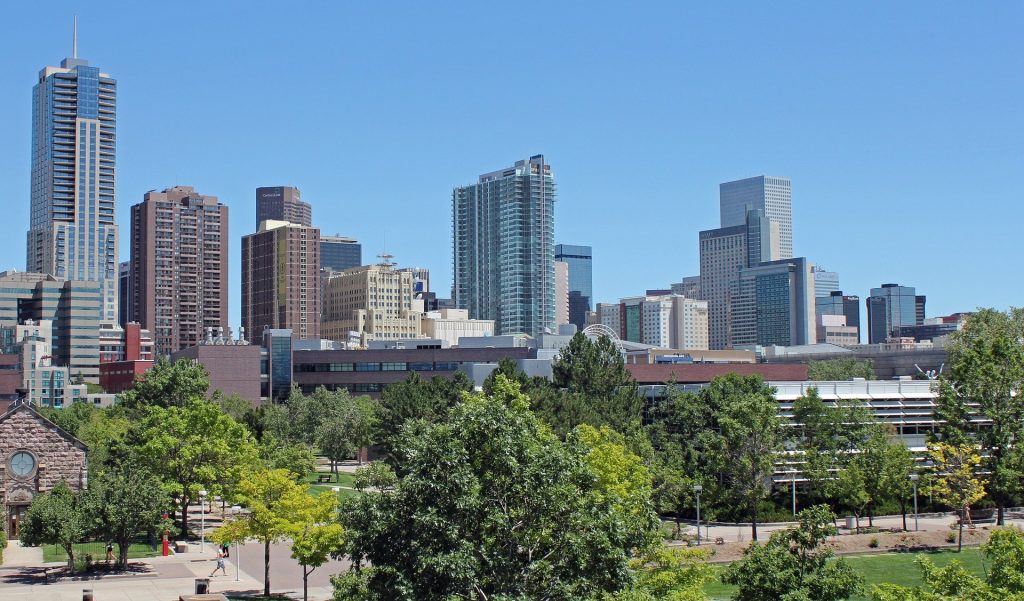 Colorado's capital and the largest city, Denver, is full of incredible sights and plenty of big-city amenities. At precisely one mile about sea level at 5,280 feet, Denver is widely known as the Mile High City. But Denver is much more than just the Mile High City. Nestled in the heart of the Rocky Mountains, Denver is in the middle of a resurgence where people are rediscovering the city that has it all. It's no surprise at the growth of Denver. With plenty of things to do, see, and explore in and around Denver, this city has a lot to offer.
A Brief History of Denver
Denver was founded during the famous Pikes Peak Gold Rush in 1858 by a small group of settlers from Georgia. The site for Denver was the perfect base for gold exploration in the booming gold rush happening nearby. Prospectors soon erected log cabins and tents, the population soon began to grow, and within a few years, after the first settlers appeared, Denver was much more than a gold mining location.
In 1863 what was a growing town was destroyed by the great fire and followed up with a flash flood in the following year. Communities were devastated, but instead of abandoning their homes, they rebuilt the city to create a Denver, better than before. The citizens came together to rally towards building a railroad to help them trade with the neighboring towns, which boosted business, created a hotspot for business, and brought more people creating a thriving community.
Things to Do in the City
Denver has just about everything you could want in a visit to a major city. From outdoor recreation to amazing eclectic restaurants, an booming music scene, and major sports options. That's without mentioning the incredible views of the Rocky Mountains. With so many places to see and things to do, it helps to have a quick guide to the most popular attractions available in and around Denver.
Larimer Square
This historic district is where Denver began and grew into the city you know and love. Explore the spanning blocks of boutique shops, unique restaurants, bars, beautiful historic architecture, and Victorian-style houses, making Larimer Square a vibrant place to explore. Visit at nighttime to enjoy the thousands of twinkling lights as you explore the streets.
Denver Zoo
The Denver Zoo has been around since the 19080s and is one of the most popular attractions in Colorado that draws in over 1.6 million visitors every year. The zoo covers 80 acres, is designed after a Kenyan nature preserve, and includes over 4,000 different animals and more than 650 species, including a rare black rhino, red-bellied lemurs, Amur leopard, and more.
The Denver Art Museum
The Denver Art Museum sits in an eyecatching angular building that holds over 70,000 diverse works that range from Claude Monet to Norman Rockwell. This museum showcases permanent fixtures temporary exhibits throughout two buildings from all time periods. The building showcases indigenous art of North America, European and American art before the 1900s, Asian art, and art of the ancient Americas. There's truly an endless amount of breathtaking art at the Denver Art Museum that needs a day trip to be able to take in everything.
Mile High Stadium 
Empower Field at Mile High is the new name of this famed football stadium in Denver. Home to the Super Bowl champions and record-setting efforts of the Denver Broncos, football fans can enjoy catching a game over the weekend or in the offseason. There are many public art displays for you to enjoy.
Elitch Gardens Them and Water Park 
Elitch is the only downtown theme park in America. It features two parks in one that features 53 thrill rides and looping rollercoasters. Moreover a water park with waterslides and wave pools to cool down in the hot summer heat. There's more than just the thrill of the rides. The park hosts drive-in movies, fireworks shows, and more.
Denver Museum of Nature & Science
The Denver Museum of Nature and Science is located next to the Denver Zoo. Moreover, it is full of exciting scientific exhibits and natural history for you. Also, you can explore and learn more about the Rocky Mountains region and the history of Colorado. This site has been the heart of cultural experience for over 100 years. The museum offers vast exhibits and experiences such as planetarium shows, IMAX films, and fossils galore.
Denver Botanic Gardens 
The Denver botanical gardens span across 23 miles, making for a peaceful day trip to walk and relax in the heart of the city. The gardens feature stunning sculptures, foliage and greenery, pools, and a variety of garden types. The Monet Pool is a highlight of this location, with gorgeous lilies and serene surroundings that make you feel like you stepped into Monet's famous painting.
Art Walk on Sante Fe Drive
Every first Friday of the month (rain or shine), Santa Fe Drive becomes a booming art walk for thousands to enjoy galleries, shops, food carts, and enjoy people watching during the First Friday Art Walk. View art from hundreds of local artists in alleys, pop-ups, in shops. Everywhere you turn, you'll find a collection of masterpieces.
Union Station
Experience the 100-year-old historical landmark located in the heart of Denver. Union Station features an eclectic selection of local restaurants, shops, and bars. The original Depot opened in 1881, and at the time, it was the largest building in the west. Built to help Denver with trade with the surrounding towns during the gold rush, it covered over 500 feet with a 180-foot clocktower. The original station caught on fire in 1984, and the city rebuilt the large structure making it 40 feet tall.
At the turn of the century, more train travel was needed, the city demolished the original structure, and the building you see today was erected. The station slowly began to fade into disuse until the 2000s. The station was purchased by the Union Station Alliance to bring the landmark back to life in 2014, and the station was reopened as a central hub for restaurants, bars, and shops.
Coors Field
For baseball fans, Coors Field is a place you want to be during baseball's lengthy season. The field is home to the Colorado Rockies and a great outing that is suited for all ages. The field is named after Coors, whose home base is located in Denver with a view of the Rocky Mountains looming overhead.
Downtown Aquarium 
The Downtown Aquarium features more than 1 million gallons of exhibits housing over 500 species. You can visit the interactive Stingray Reef touch tank, Dive Lounge, and the Nautilus Ballroom. After a long day of exploring, you can enjoy dinner at the Aquarium Restaurant featuring a stunning 50,000-gallon centerpiece aquarium. The most amazing feature here is that you can actually dive in a protected cage with the sharks. That's truly a one-of-a-kind experience for a landlocked state. There's something for everyone at the Downtown Aquarium.
Top Outdoor Destinations
A trip to Colorado is just not complete without visiting one of the incredible state parks in the surrounding area. Explore the Rocky Mountains and enjoy the sweeping, majestic views that make Colorado one of the most outdoor-friendly states in America. These are just a few of the outdoor parks you can visit either in the city or just outside.
Cherry Creek State Park
Cherry Creek State Park is Denver's natural and spacious backyard playground with a prairie environment of rolling hills. Activities include camping and facilities for group events. Plenty of trails make for the perfect place to bike, walk, or hike. Moreover, with choices of 12 miles of paved trails or 35 miles of multi-use trails. The lake here allows boating and fishing and is a beautiful natural outdoor recreation close to the city.
Rocky Mountain Arsenal National Wildlife Refuge
An urban wildlife refuge sits just 8 miles northeast of the heart of downtown Denver. This refuge has free entry and covers 15,988 acres to protect the healthy wildlife population of deer, prairie dogs, coyotes, and many hawks, owls, and birds that thrive on the land. Bison herds have recently made their way back at the Arsenal and are thriving for the first time in a century. Although entry is free, you will want to make a reservation ahead of time.
Red Rocks Park and Amphitheatre
The iconic Red Rocks Park and Amphiteatre is a natural rock structure just 10 miles west of the city. The natural rock formation and angled boulders create an ideal acoustic venue that allows musicians, bands, comedians, and more to perform here year-round. Red Rocks has hosted major iconic artists such as Depeche Mode, the Beatles, Jimi Hendrix, and so many more. If you can check out a show here, it'll be an experience you won't want to miss. The park itself is gorgeous to check out the ample hiking, biking, and walking trails to takin in the gorgeous red monoliths that give this park its name.
City Park 
This park sits on over 330 acres and houses the Denver Museum of Nature and Science and the Denver Zoo. The park allows you to marvel at the city skyline against the Rockies.  And also enjoy the breathtaking views this park has to offer. It's a beautiful nature experience and the perfect relaxing point.  You can pop into the museum or the zoo and make it a day packed with adventure.
Restaurants and Nightlife in Denver
Denver offers a wide selection of dining that satisfies the ever-evolving tastes of the city. The city has a dining landscape with restaurants from incredibly passionate chefs. Especially those who desire to create unique culinary creations for every person. The cultural diversity makes Denver stand out from amazing Chicago-style pizzas to Israeli cuisine; there is something here to satisfy even the pickiest of eaters. Here are a few places you have to check out on your visit to Denver.
Denver Beer Tours
Denver is pretty well known for its beer, and if you head to downtown Denver, you can enjoy one of the many beer tours available. Learn about making beer, enjoy a tasting of popular local breweries, and enjoy the ambiance breweries have to offer.
Number Thirty-Eight
Number Thirty-Eight features 24 tap rooms, amazing cuisine, and live bands that make this location a premier spot for a night out on the town. The indoor-outdoor concept allows you to sit outside or inside and choose from a beverage selection primarily focused on local breweries and distilleries.
Williams & Graham
Located in Denver's Lower Highlands (LoHi) neighborhood, Williams & Graham is a prohibition-era speakeasy hidden behind a bookshelf. Featuring an old-school classic atmosphere, enjoy amazing craft cocktails and traditional favorites. The menu has incredible food and is an incredibly popular spot, so make a reservation before you go!
Nocturne
If you love Jazz, Nocturne is the place to be. Nocturne is a jazz and supper club featuring incredible music while you dine on a special three-course menu or enjoy small plates. The gorgeous art deco restored warehouse makes for an unforgettable experience you can't miss.
How to Get to Denver
Getting to Denver is made easy by arriving at the Denver International Airport. If you fly into the DIA, you can get to any of these popular destinations in style with Mayflower Limo, which offers luxury airport shuttle services. Beyond your airport transportation, Mayflower can get you around the city in a stylish six-passenger SUV or arrive at dinner in style by taking one of the gorgeous limos.