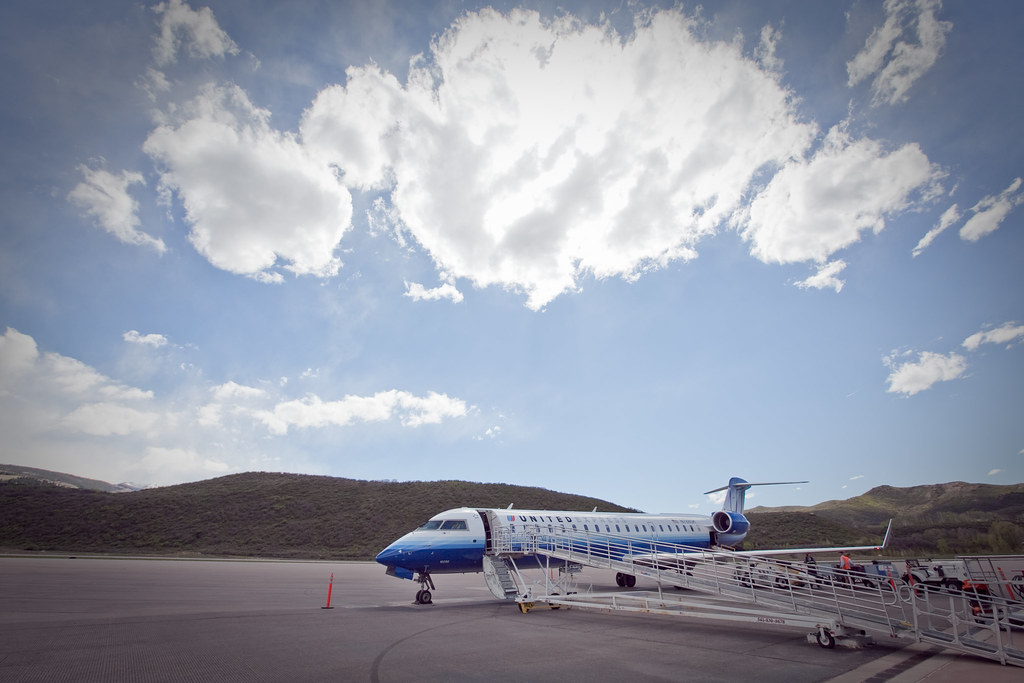 "Aspen-Pitkin County Airport, often known as Sardy Field, is a public-use airport located 4 miles from downtown Aspen. Pitkin County owns and operates it. The address is 233 Airport Rd, Aspen, CO 81611, USA and you can contact them at 970-920-5380 for further information." 
In 1946, Aspen-Pitkin County Airport (ASE) opened as a privately operated, public-use airport with a single gravel landing strip. It was handed to Pitkin County ten years later, in 1956. It has expanded throughout the years and presently encompasses 573 acres.
ALL ABOUT ASPEN/PITKIN AIRPORT
The airport is one of the busiest ski towns airports in the country. There are about 170 weekly flights throughout the winter, with daily flights from Denver International Airport (DEN). Both Chicago IL and Los Angeles CA fly straight to Aspen-Pitkin County Airport, with over 20 flights each week throughout the season.
The single-story terminal has 44,000 square feet of area. Within the terminal, Jedediah's provides three different services. A grab-and-go café, a full-service restaurant, and a gift store. In the winter, a grab-and-go store is located in the baggage claim area. Furthermore, there are several places to eat and shop within the Airport. Free internet is available throughout the Main Concourse, baggage claim, and security screening checkpoints.
So, flying from this Airport is a delight due to all of the options available to travelers. Furthermore, you will not find a nicer or more pleasant airport staff to assist you with all of your needs.
AIRLINES OPERATING FROM ASPEN/PITKIN AIRPORT
Aspen's airport is operated by three major commercial airlines. Winter is the peak season, with passengers desiring to ski the slopes of Aspen's four famous ski resorts.
The American Eagle
Year-round nonstop service to Dallas/Fort Worth; seasonal nonstop service to Chicago–O'Hare, Los Angeles, and Phoenix–Sky Harbor.
Delta Connection
Direct nonstop flights to Atlanta, Los Angeles, Minneapolis/St. Paul and Salt Lake City are operated seasonally.
United Express
Direct nonstop flights to Denver are available throughout the year. Seasonal nonstop flights going to Chicago–O'Hare, Houston–Intercontinental, Los Angeles, and San Francisco.
Year-round nonstop direct flights:
Denver, Colorado (DEN)
Fort Worth/Dallas (DFW)
Atlanta (ATL)
Los Angeles (LAX)
Saint Paul/Minneapolis
Salt Lake City (SLC)
HOW DO YOU GET TO AND FROM ASPEN-PITKIN AIRPORT?
The airport is only four miles from Aspen and six miles from Snowmass Village.
CHOOSE MAYFLOWER LIMO FOR ASPEN-PITKIN AIRPORT TRANSPORTATION
"Travel stress-free and hassle-free than other modes of public transportation by simply booking a car."
There are always good facts and explanations to figure out why booking a car service is the safest way to travel. It is a faster mode of transportation than buses, trains, and even uber services.
Mayflower Limo is proud to provide first-rate transportation for long distances. Especially when it comes to one-way or round-trips. All of their drivers are qualified to provide you with cutting-edge, first-rate transportation. Moreover, the foundation of the company is built on respect, integrity, and dignity. Among the many advantages are:
There is no additional charge.
The element of convenience
Safety
A driver who is familiar with the city of Denver.
With all of the advantages listed above, you will be passing up a plethora of opportunities if you do not use this service.