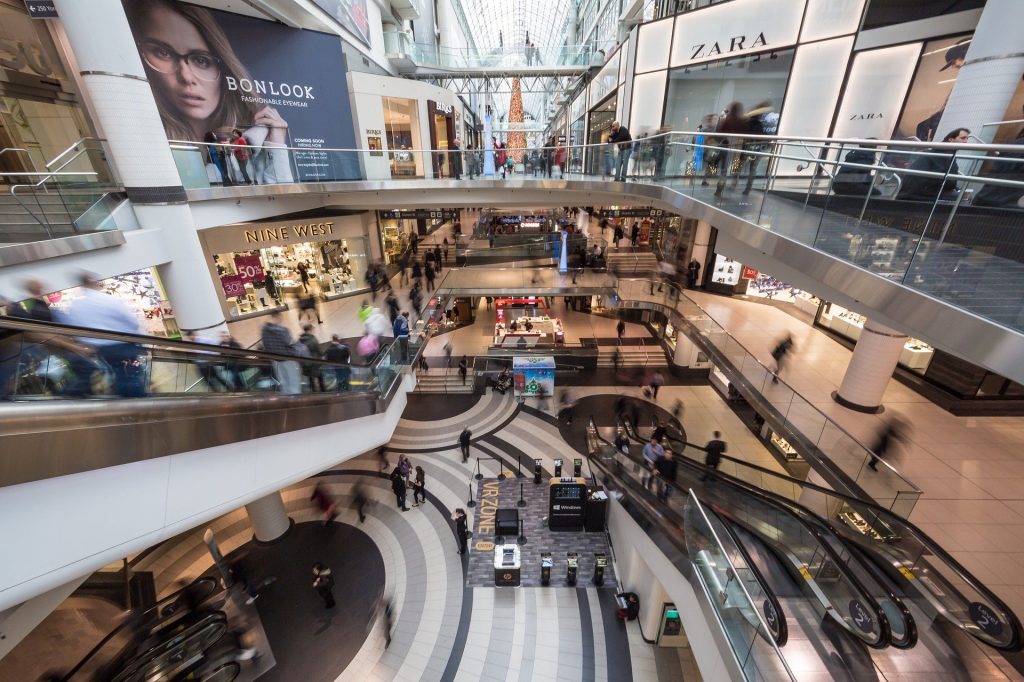 In this age of technology, shopping has very much shifted to the online retail space. Although Amazon is a great choice to find everything you need, sometimes your retail therapy requires more. There's nothing that compares to blissfully strolling along with shops, exploring local boutiques and retail favorites, and browsing new items you may not even know existed had you only browsed through Amazon. The experience is only made better when you bring along your favorite family members or friends.
Shopping at a mall is more than just browsing items. It is about the experience. Malls are considered a destination, and the most desirable malls offer the best in amenities, experiences, and entertainment in the hopes that they can delight the thousands of visitors that make the trip year-round.
Colorado is home to some of the best shopping malls and outlets around. You can find luxury upscale stores and dining to some great outlet finds. Many of the Colorado shopping centers feature sweeping views of the gorgeous landscapes that make Colorado great. Enjoy this guide that will cover seven of the greatest shopping malls in Colorado.
BEST SHOPPING MALLS IN COLORADO
Cherry Creek Shopping Center
3000 E. 1st Ave. Denver, CO 80206
Cherry Creek Shopping Center is the most expansive shopping center in Colorado and is located in Downtown Denver. With over 160 shops and 40 exclusive stores that include Neiman Marcus, Tiffany & Co., Tory Burch, Burberry, Louis Vuitton, Cherry Creek is the perfect place to peruse to find just about anything you can imagine.
The mall includes 15 eateries and dining hotspots, including Kona Grill, Elway's, and 801 Chophouse. You can spend an entire day shopping and dining at Rocky Mountain's premier location. You can check out the Cherry Creek outdoor shopping district for even more shops to explore if you head across the street.
Enjoy a centralized lobby to sit and rest that features a grand piano where musicians can often play classical greats like Beethoven and Chopin. In the lobby, you'll find special events being held here year-round. You just have to check out the website for the current events and schedules.
Park Meadows Mall
8401 Park Meadows Center Dr, Lone Tree, CO 80124
Located in Lone Tree, Colorado, the Park Meadows mall features over 180 shops and an expansive Food hall that is described as a retail resort. The entrance to the mall has a resort-like feel with a beautiful man-made waterfall and pond. This stunning mall is just outside of Denver and is a popular shopping destination with an upscale feel.
You can find popular stores such as Dillard's, Gap, Lululemon, American Girl, Nordstrom's, and more. Park Meadows makes for an amazing shopping experience. When it comes to dining, Park Meadows offers everything from casual sit-down dining to quick eats. And that also makes it a great place to enjoy a meal after a long day of shopping. Enjoy a variety of international cuisine, from Asian eateries to Mexican favorites.
Some of the popular amenities include a charging station for your mobile devices, free wifi, a nursing lounge, and stroller rentals to make shopping an enjoyable experience for families.
Colorado Mills Mall
14500 W Colfax Ave, Lakewood, CO 80401
Just before you enter Golden, Colorado, you can enjoy the large shopping center that is worth a visit when you're in the area. There are a wide variety of shopping favorites, including Wonderland Toys, Nike, Under Armor, and Super Target, along with some of the most popular outlet shops. The outlet shops can save you up to 70% off retail prices. 
There is just about every option available for dining choices, from fast food favorites like Popeye's or sit-down restaurants like Sarku Japan or one of the amazing Mexican food diners. Yard House is the locals' favorite for great beer and a good burger. 
There's nothing like a great meal after a long day walking through the mall. Walking the entire circuit is almost a mile and has a large mall walker following.
The Colorado Mills Mall is partnered with the 40 West Arts District. That makes it a unique location that features art exhibits and sculptures.
The entertainment is one of the largest selections in the malls across Colorado. There's something here for everyone to enjoy, from movies, gaming, and an indoor shooting range. 
Belmar Shopping Center 
7337 W Alaska Dr, Lakewood, CO 80226
Belmar opened in 2004 in Lakewood as a redevelopment of the Villa Italia Mall and was inspired by Lakewood's rich retail roots. This shopping center features over 80 retail stores, including landmarks such as DSW, Target, Best Buy, Nordstrom's Rack.
There's much more than just shopping at the immaculate outdoor air shipping offered at Belmar. Enjoy the arts at some of the art galleries sprinkled throughout the shopping center, including Valkarie Galery and Studio and Sally Centigrade Art Gallery. Enjoy handmade jewelry at iNk Jewelry by local artisans Ina and Kristen.
Belmar hosts entertainment and educational activities year-round, from the ice skating rink to workshops galore. You can enjoy a movie at the theater or go bowling at the bowling alley.
Enjoy a variety of casual cuisines such as Tstreet, which features a roadhouse style menu, and Pho Saigon Basil for incredible Vietnamese eats. You can find great wine and beer vendors located throughout the shopping center to make the most of your shopping trip.
Flatiron Crossing
1 W Flatiron Crossing Dr, Broomfield, CO 80021
This bustling shopping center features more than 200 retailers and restaurants as the indoor component of the Broomfield expansive shopping, entertainment, dining, and business district located along the Boulder Turnpike. Favorite shops include Macy's, Nordstrom, Dicks, and more.
Flatiron Crossing offers much in the way of entertainment from the movie theater with reservable lounge chairs that allow you to enjoy a movie in extreme comfort or the summer concert series that comes complete with the popular beer garden.
Some amenities include free Wi-Fi, nursing stations, courtesy escorts to help you carry bags, and more. An amazing feature of the Flatiron Crossing is the commitment to sustainability that features solar panels and energy-efficient HVAC and lighting.
The Streets at South Glenn
6851 S Vine St Suite #200, Centennial, CO 80122
This small outdoor shopping center opened its doors in 1974. It also has an eclectic mixture of upscale shops with funky urban boutiques. The stores span out across several blocks and include many eateries, big, beautiful fountains, and gorgeous common parks that add to the shops' luxury aesthetic.
You can find many popular department stores like Marshalls and Macy's and clothing stores there. That includes Old Navy. Moreover, you can check out Colorado designers like Apricot Lane or Aspen Blu.
Sidewalk cafes and restaurants are found throughout The Streets at South Glenn and feature bistros, bakeries, barbeque, and more.
There are seasonal events hosted at the Commons Par, including summer concerts and holiday festivities. Enjoy the Hollywood Theaters that serve meals right to your seat as you enjoy movies.
Southlands
6155 S Main St Suite 260, Aurora, CO 80016
Southlands is a picturesque outdoor shopping center in Aurora, Colorado, with a convenient collection of retailers, restaurants, and services that cover a few city blocks. Shoppers can enjoy shopping at some of the more popular retail chains like H&M, World Market, New York& Company, Barnes & Noble, and more. Nestled among the popular chains are unique boutiques like Fezziwig's Candy featuring nostalgia candies or Buff City Soaps, which have hand-crafted shampoos, soaps, and more.
More famous for their quick bites, Southlands has an eclectic mix of foods from all around the world. That also makes for plenty of choices for even the pickiest eaters. Ted's Montana Grill is great for a big steak meal or enjoys some hearty gumbo at The Lost Cajun restaurant.
The activities available throughout the shopping center include a Pilates studio, pottery painting, and of course, the staple movie theater. Southland offers enriching kids activities through the Cub Club that include programs and events throughout the year.
Mayflower Limo
Going shopping is more about the experience, and nothing adds to the experience more than arriving at your retail therapy in style with Mayflower Limo, which offers luxury shuttle services. Mayflower can get you to your destination in a stylish six-passenger SUV or one of the gorgeous limos. A truly treat yourself adventure awaits with any of these incredible shopping destinations.